The economic added value of "Swiss Made" and how it is protected
Swiss goods are particularly valued by consumers, so it is no wonder that such products enjoy an excellent reputation and quality both home and abroad. As a result, a higher price can be charged for Swiss products than similar non-Swiss products. As several studies have shown, this economic added value can account for up to 20 percent of the sales price for agricultural products and typical Swiss products. For luxury goods, it can even amount to as much as 50 percent.
Since 2017 the Swissness Regulation defines the conditions under which businesses can claim their products as being Swiss made. It requires that a minimum of 80% of the weight of raw materials for foodstuffs or 60% of manufacturing costs for industrial products must be generated in Switzerland. In addition, an essential manufacturing step has to occur in the country. Some exceptions still exist for specific products (Swiss chocolate for example).
According to a government report from 2020, the Swissness law generates a value to the Swiss economy of more than 1.4 billion CHF (1.27 billion €) per year. The legal framework allows the Federal Institute of Intellectual Property (IPI) to intervene and demand that goods be destroyed when they do not meet the criteria.
In 2020, the IPI intervened in a record 280 cases (201 in 2019). For 2018, the Organisation for Economic Co-operation and Development (OECD) assesses that the Swiss economy lost 4.5 billion CHF (4.1 billion €) due to counterfeit Swiss products, which is equivalent to 10,000 jobs.
To avoid this phenomenon, an association for Swissness enforcement has been created in 2021 in order to coordinate actions against the misuse of Swiss indications of origin abroad. It gathers 13 members, including sector associations for the chocolate, watch, cheese and textile industries as well as Swiss pharma companies and the IPI.
Despite the strict rules applying for Swissness, there is still room for interpretation. Prodigo can assist you to cope with these requirements and adapt your production process to meet the criteria.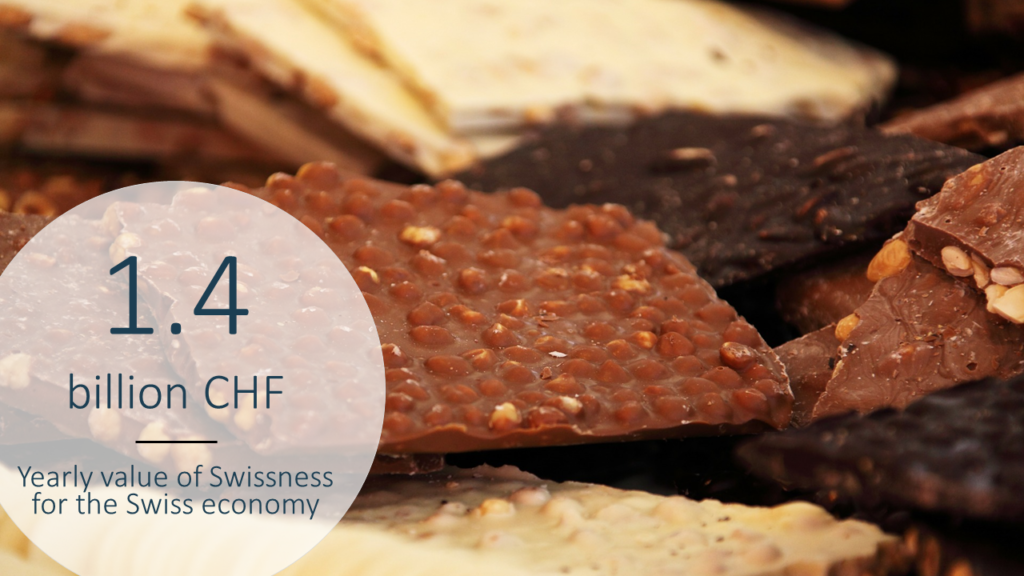 Source: https://www.admin.ch/gov/en/start/documentation/media-releases.msg-id-82800.html